Murad and Mahani Investment Group, the exclusive and authorized distributor of Hitachi Brand & the authorized service center for Hitachi brand in Jordan. The only place in which you trust that your electrical appliances are in safe hands, for the following reasons:
• A trained and qualified team of highly experienced engineers and maintenance technicians.
• Advanced centers equipped with the latest equipment and examination devices.
• An authorized service center for the maintenance and sale of all Hitachi appliances, including refrigerators, vacuum cleaners, and others.
• High quality original spare parts that guarantee the complete reliability and safety of your electrical equipment.
• General maintenance services: We provide all types of maintenance needed for Hitachi home appliances in the event of sudden malfunctions, or during the examination of the devices.
• Maintenance appointment booking service:
To ensure that you receive the service at a time that suits you and choose the authorized Hitachi service center in Jordan, we have provided you with the ability to book a maintenance appointment in advance, where you can contact the service center directly at 06-5885882 ext. 4000
• Regular maintenance services:
Hitachi home appliances are subject to a intensive maintenance by authorized service technicians according to a schedule, this guaranteed to carry out the recommended maintenance to keep your electrical equipment performing at high efficiency.
• On-site maintenance services:
In the case of a Hitachi electrical appliance failure, you can carry out maintenance and repair operations at your home site to relieve yourself from transporting the appliance to a Hitachi service center. All you have to do is call us at the number 06-5885882 ext.4000 to carry out maintenance operations directly at the same site.
Advantages of the Murad and Mahani Investment Group Service Center, the exclusive agent for the sale and service of Hitachi home appliances:
• Discounted maintenance rates.
• Fixed prices for labor and spare parts.
• Ten years warranty on the motor for Hitachi refrigerator and Hitachi washing machine.
For more information, please contact a service advisor at the authorized Hitachi service center.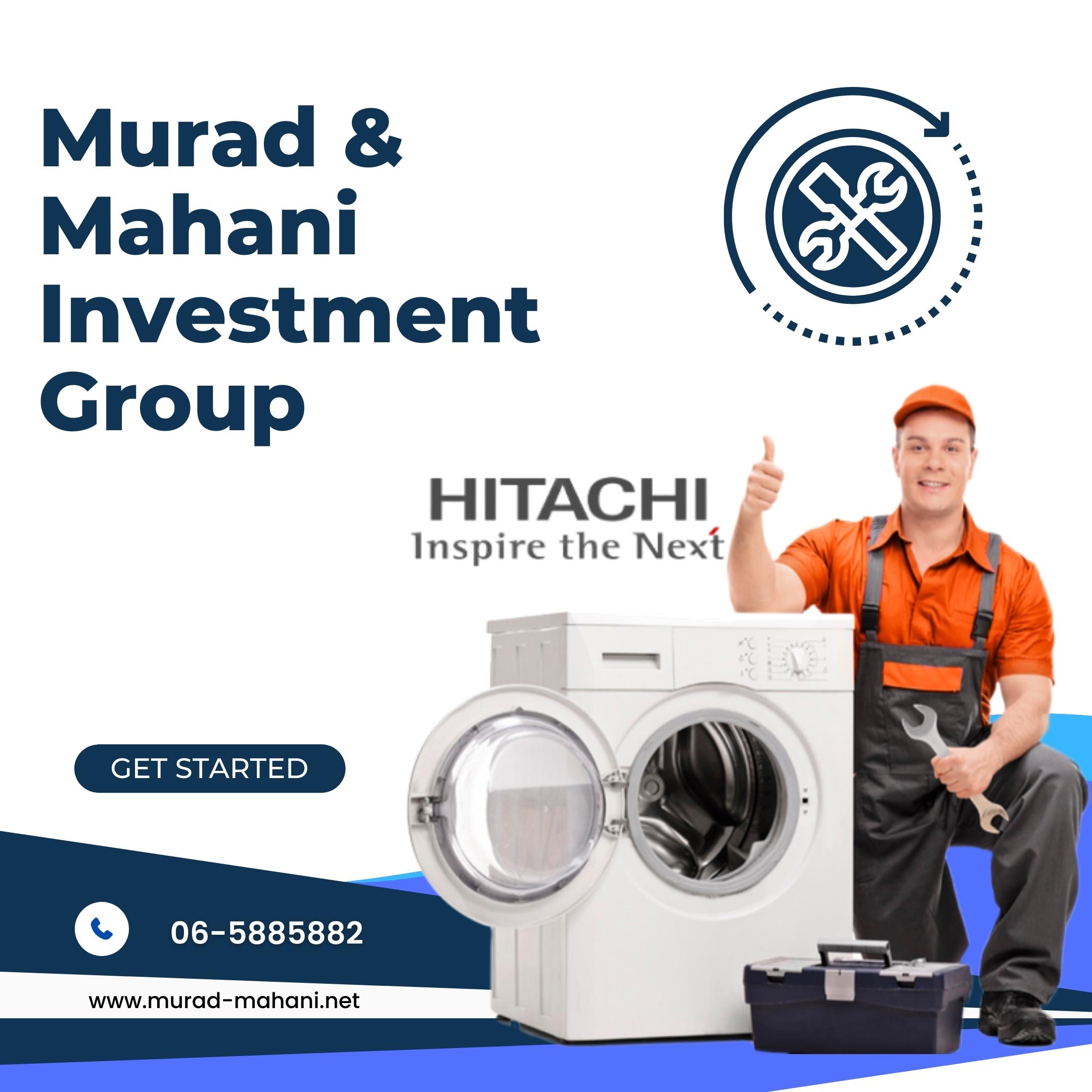 The warranty does not include any of the devices that are maintained outside the group center, nor does it include any devices that are imported from a party other than Murad and Mahani Investment Group.
For comments or complaints, please contact the following number +9626 5885882